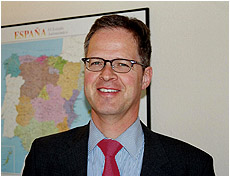 Not only my career, but also my personal development have been strongly affected by both European and Spanish culture. As a child, I spent long holidays and also stays of several months at a time in Spain. After the school and before the University I spent one year in Spain learning the language and building up the country-house of my mother. Whilst retaining my Westphalian heritage, I feel completely at home in the Mediterranean. Therefore, I live and embody both cultures.
My two homes are in Palma de Mallorca and in Münster. In Palma, I lived with my wife and our two children, in a townhouse located in the old part of town until 2008. There I am active on the executive committee of the association "CE" (European citizens), which addresses the rights of Europeans abroad.
Nevertheless, I still keep my connections with Münster alive. I spend every other week working there and with my family. I am active in honorary functions of the Yacht Club Hansa Münster, for which I was the chairman until 2009 and participated successfully in my youth in both national and European championships, not to mention other international competitions and championships. Also in Mallorca, I relax best by going sailing and by sharing other activities with my family.